QUESTION_36
You can customize any word in Crowdstack, except for the wording in the Manage area, if your site is on the Fullstack plan. You can do this to translate Crowdstack to another language or to simply align with your own linguistic style.
To update wording go to Manage > Settings > Wording.
You have a few different ways of making changes:
Search

: search for all instances of the specific words you are trying to change.

View All

: see a list of all words and make changes to the ones you want.

Import

: since Crowdstack wording can be exported, you may also import an entire wording set from another site into your Crowdstack.
Note that you can always see a list of all words that have been changed and those that are unchanged.
If you are trying to change the wording for all your fields and phrases for translations purposes, it may be best to export all the wording into a CSV file via the Tools tab. This way, you can easily search all the words, use Google Translate or another language conversion tool and use the import tool. For best results, it is recommended to have a native language speaker review the translation prior to uploading. The Tools tab also provides the location to upload or import the newly translated CSV file.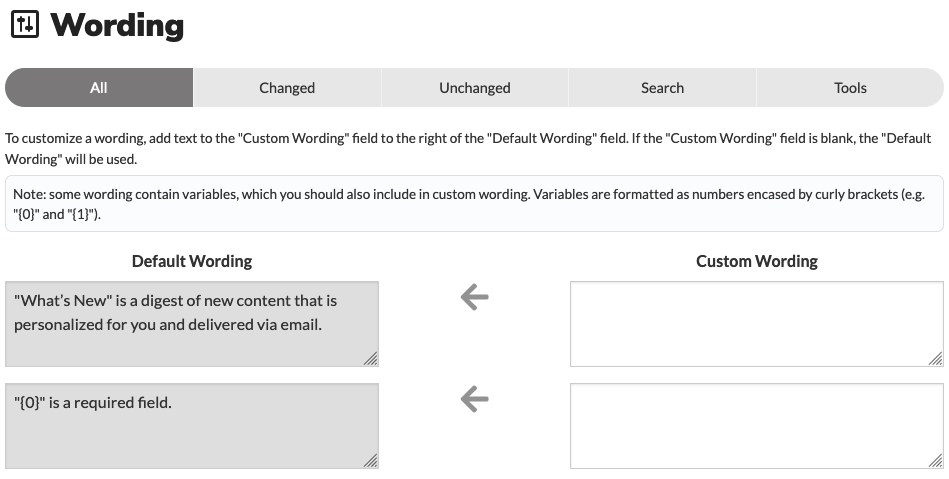 Please note that, while Crowdstack can theoretically support any language, it is not designed to work with RTL languages (Arabic, Hebrew, Persian, Urdu, etc.).