How do I set up advertising or sponsorships in my community?
If you do it right (i.e., don't get too crazy), the advertising and sponsorships in your online community will feel natural and unintrusive.
The key is to use the right type of promotions for your membership, and the tone of your community. If you choose to include sponsored resources or articles, be transparent about the sponsor relationship.
Before you get started, gather some basic information about your site. Ad programs (and sponsors) will probably want to know a little bit more about your community and its composition before they agree to work with you.
Information you should have handy:
Number of members (or projections if you're just getting started)

Segmenting, interests (having well thought-out custom profile fields is helpful here)

Demographic information

Engagement stats over time

Analytics data like page views over time and unique visitors (FYI: you can add your Google Analytics ID to Crowdstack directly)
To get started with advertising, you might want to try something simple like Google AdSense. That allows you to just paste a snippet of code into your community site, and Google does the rest. They'll even estimate your potential earnings based on your site topic and region.
Here's a handy article on the 10 Google AdSense alternatives, in case you want more options.
If you're running a very focused hobby site, you might want to run your own direct ad deals with relevant companies or products. This would require a bit more time investment on your part, managing your open ad slots, timeframes, and pricing, but then you don't have to split the revenue with anyone.
How much should you charge? It depends on the popularity of your site. As an example, here's a detailed breakdown of how much you might charge for ads on a blog site.
Don't forget you'll need to report page views (and potentially click through) to ad buyers yourself if you go the DIY route. This might require a bit of HTML/Javascript help from your friendly neighborhood geek.
The good news is that it's simple to insert a banner in the header or footer of the site. If you want it to be full width, you'll want a banner image at least 3000 pixels wide.
Crowdstack is responsive design (nerd-speak for "it automatically resizes for mobile and tablet sized browsers"). So if you're inserting an ad image in the header or footer, you'll want to make sure your code is responsive too.
You could also consider making "hide ads" a benefit of your premium membership plan. If you're using Crowdstack, place ##ad## at the start and end of your ads in order for them to work with the "bypass ads" permission.
If you have a thriving niche community site going, you are like shiny gold to a potential sponsor. Depending on how public you want to be with your sponsor program, you can put together a deck or PDF, or simply create a "sponsor info" page on your site, to spell out the terms of your offerings.
What types of opportunities can you offer a sponsor?
Sponsored targeted survey(s) - then give the data to the sponsor.

Sponsor a forum (create a featured topic with the sponsor info, or allow the sponsor to moderate the forum directly).

Sponsor the entire community ("brought to you by…") and put their logo in your header/footer.

Sponsor a segmented email blast.

Sponsor a News Flash popup on the home page.

Sponsor an event and place it in the calendar.

Sponsor a chat event Q&A.
Sponsorships work within the context of hobby/niche special interest sites, as well as within a business ecosystem. Key business partners are ideal as potential sponsors, since you're already engaging with similar member segments.
Be transparent about sponsored/paid content or links on your site. Your members' trust is a finite resource.
Another simple way to earn revenue at the same time you provide a service to your members is to run Amazon affiliate ads (https://affiliate-program.amazon.com/). The Amazon affiliate code will analyze the content of the page to serve relevant products, or you can specify exactly which items you want to promote.
One final thought on monetizing.
Your community members may want to adorn themselves with hoodies, stickers or other merchandise that promotes your site.
If you set up a shop with custom logos/designs, you might earn a small commission for each item sold, and your members can help you promote the community. Win. Win.
Cookie Connection, one of the most popular cookie decorating communities, has a Teespring shop for site merch. Other options include CafePress, Threadless, or Zazzle.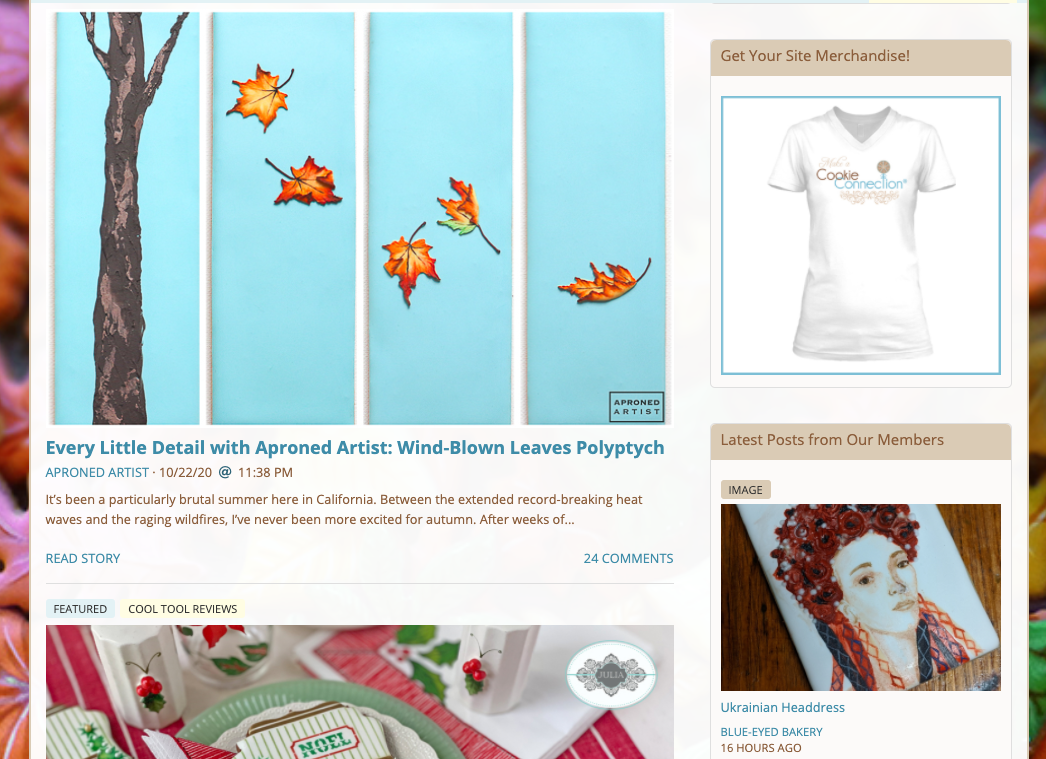 Yes, there are many ways to make money directly and indirectly from an online community. The key is to provide value in some way before trying to extract value.
Be upfront about any links or content that is from an advertiser or sponsor.
And finally, be strategic in your use of monetization tools. You wouldn't want to overwhelm the main mission of your community with external links and images.
Only include ads or sponsor content that help you further your goals, and/or help your community members further their goals.