How can I deactivate or delete my membership on a Crowdstack group?
You may deactivate or delete your account on a Crowdstack site by navigating to the Manage Your Account area, while signed into that group. While signed into your Crowdstack, hover over your profile image in the top right and you'l find the option.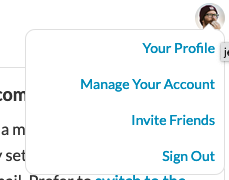 Deactivation
If you deactivate your account, you will no longer be listed as a member and none of your content will be associated with your profile. Thus, your membership information is not actually deleted, when you deactivate. You can reactivate later, if you like, by simply signing back into the Crowdstack.
Deletion
When you delete your account, your information will be permanently deleted. You'll have the option to remove all of your content, as well.
Please note that if you are the owner of the Crowdstack, you will not have the option of deactivating or deleting your account.